Importer of Record Services for Mobile Medical Technology
Released On 1st Sep 2020
We are global Importers of Record for medical equipment, mobile medical technology including devices for clinical trials etc. Please get in touch about these services.
More than ever, the need exists to mobilise medical equipment and devices internationally. Clinics, hospitals and pharmaceutical companies worldwide must have the necessary equipment to run clinical trials on potential therapies for conditions and diseases around the world. They must also adopt mobile technology to engage with patients remotely to monitor their overall health.
Mobile solutions are sparking change across healthcare, from how clinical trials are run to helping with medication adherence. New companies have emerged to provide secure and reliable hardware and software infrastructure to allow for remote recording of outcomes.
These changes have led to a huge increase in imports of mobile medical technology, along with the challenges of moving equipment and hardware around the world.
Some examples:
Electronic patient-reported outcomes (ePRO) are, as the name suggests, patient-provided information about symptoms, the side-effects of drugs and drug timing, and other critical information recorded on an electrical device during the clinical trial.
The technology to gather ePRO can vary, from a web-based app that can be downloaded onto the patient's own smartphone, to third-party devices with the technology pre-loaded onto them.
Electronic Clinical Outcome Assessments (eCOA) use platforms that enable streamlined data collection for patients (for example from ePRO data gathering), clinicians, operational medical sites and clinical trials. This happens via technical hardware such as computers, tablets and smartphones.
Clinical trials and development teams utilise web-based solutions such as Interactive Response Technology (IRT) systems to improve patient management, data registration, logistics and regulatory compliance.
Mobile Gateways for Remote Monitoring enables patients to watch their vital signs from an app on this smartphone or tablet ensuring they are alerted when a critical level is reached.
Telehealth tablets for doctors and patients improve the ability for patients to engage with their physician face-to-face remotely.
The use of ePRO, eCOA , IRT systems and such-like by medical teams can greatly improve the quality of data in trial results to facilitate new therapies.
Managing the import supply chain for mobile medical technology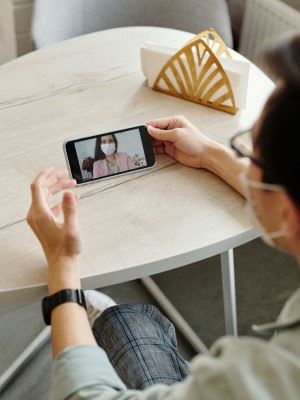 Modern clinical trials are increasingly complex, with studies often spanning different countries or even continents. This has been driven exponentially by the upscale of requirements triggered by the COVID-19 pandemic, sparking a demand for remote appointments with a healthcare professional, and the associated technology to facilitate those requirements.
The increasing demand for eCOA, IRT and ePRO technology should go hand-in-hand with an effective supply strategy for the trial. A global study involving multiple countries has complexities that include the logistics of importing the devices, as well as understanding the time it will take to get them to their final destinations.
CROs and trial sponsors are also likely to face logistical hurdles when importing devices to developing nations, where additional customs challenges could result in shipping delays to the required site.
Unfortunately, this has created a trail of confusion as to the import requirements for tablets, mobile phones and other recording technology used to monitor clinical outcomes.
Mouse & Bear's IOR services can remove this confusion for clinical trial managers and healthcare professionals.
What is an Importer of Record (IOR)?
An Importer of Record is either the owner or purchaser of the imported goods, or often a third-party agent representing the owner. The Importer of Record must have a registered legal entity and physical presence within the country the goods are being imported into.
They are wholly responsible for adhering to all of the required legal customs import processes and procedures. This includes completing and submitting the relevant import applications and certifications prior to the shipment arriving, as well as working with local customs authorities to clear the goods and paying the taxes and duties. The Importer of Record must also ensure the shipment is physically delivered to the listed consignee.
Who would use an IOR service and why?
A clinic or hospital wishing to import "dual-use controlled goods" (this term covers the ePRO, IRT and eCOA devices) on a global scale requires the customs knowledge, accreditations or time to complete the entire customs compliance requirements and follow the correct procedures to clear the goods for entry.
These are often complicated processes in the local language with the requirement for a person to be physically present within the Customs offices to complete and submit the relevant documents for import licenses, Certificates of Origin, Certificates of Conformity and such-like.
Can the Medical Establishment be the IOR?
Although the clinic / hospital / pharmaceutical company may have a registered entity in country, they usually do not wish to be involved in the import processes as they do not have employees familiar with the processes, so an IOR provider is employed to handle it on their behalf.
Additionally, the consignee may not wish to be noted as the Importer of Record as the goods become a taxable asset listed against the entity in country. This may not be convenient, since these devices are often shipped back to the origin source when the clinical trial is completed.
This article explains in more detail why end users don't always want to be the Importer of Record.
We make Trade Compliance as clear as possible for our clients. We handle the entire process so the end-user does not have to get involved:
Pre-ship import licence(s) and permits, documentation and goods compliance checks
Customs Clearance: Clear shipment through the relevant customs channels
International Freight if required
All customs charges and levies pre-paid on your behalf
Perform the last-mile delivery to the end user
Shipment status reports
Storage solutions
Please contact us if you have any questions about this topic. We are always happy to help! Email iorsolutions@mouseandbear.com, call 01935 848526 or send the enquiry form below.
Similar Posts
What rules do governments have around payments for international transactions? Read our guide to commercial transactions when impo...
Read More

Your client wants the kit in another country, but doesn't want to be involved in getting it there - sound familiar? So...
Read More